Wildfire - The Dominatrix
My approach to BDSM
I am often asked how I started in BDSM and why I became a Dominatrix.  So to answer those who have yet to ask and perhaps to cast some light on my dark side and how it has led me to be the person I am today, here is my answer for you:
Lots of people can point to an exact date or a particular formative event that drew them into BDSM.  However, I know many others of you, like me, find it harder to pick a single point in time. What I can say is that when I was younger, I always knew that there was something missing, something my subconscious knew it needed but was lacking in my life. Somewhere between the occasional and the somewhat random kink experiences of my life, my yearning for BDSM grew stronger and by the time I watched my first BDSM film (if you are curious, coincidently it was shortly after I moved to London that "Preaching for the Perverted" was re-released), it became engrained deeply within me.
Ever since, I have been, and still am, fascinated by all things BDSM, including a deep interest in both the emotional complexities and the underlying psychology of my fellow explorers in this fun and deviant world. That interest eventually led me to becoming a Dominatrix, a profession perfectly matched to my insatiable BDSM curiosity and my natural exploratory nature. This in turn is reflected in my own approach to BDSM.
I also firmly believe that BDSM should always be fun and enjoyable – well at least on some level .  As such, I am not a cold and aloof Mistress who wants someone to grovel at their heeled boots, and I most definitely do not adhere to the old adage of a Dominatrix being someone who "hates men". Creating a genuine dynamic is far more satisfying than any false masquerades.
Being able to understand and utilise the psychological aspects of submission is something I consider to be both a fun and crucial aspect of my role as a Dominatrix. I enjoy finding out what makes a person tick and – just as importantly – why!  And so, I take as much delight in guiding the first steps of the curious novice as in leading the experienced into the darker and more deviant recesses of the BDSM kink world.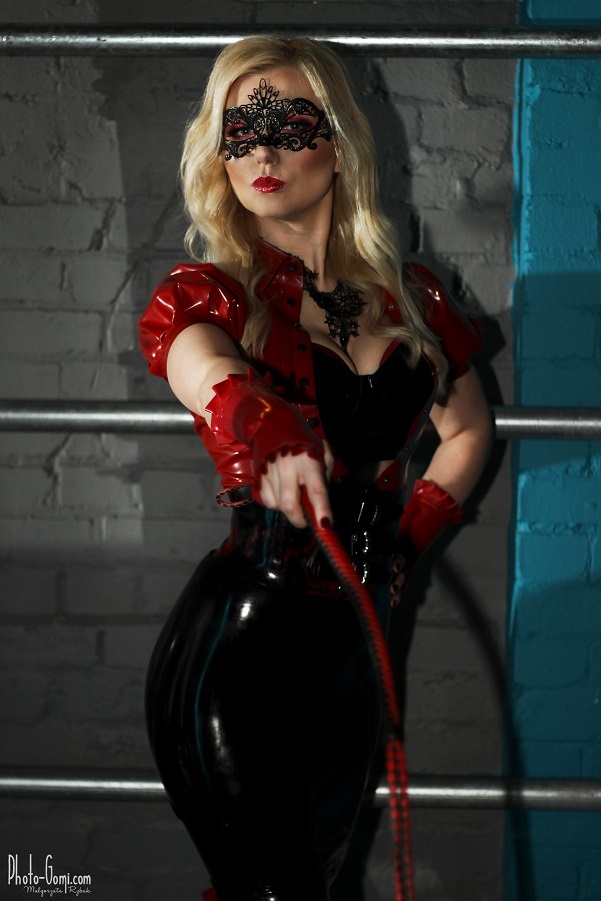 Expertise
I am a Lady who knows her craft.
I understand that you come to see a Professional Dominatrix not only because you want to submit to a beautiful Lady, but also because you expect domination at a professional level. This is absolutely crucial – after all you are entrusting me with your mind and body. Well, look no further – this is exactly what I provide.
Being a Pro Domme requires a lot of skill, experience, and knowledge about BDSM, all of which I have gained through various thematic workshops, extensive private professional tuition and tireless research. Not to mention the countless hours of practising and honing my skills before I even became a Pro – I am not simply "a blonde with a whip", nor a woman with attitude who just bought a flogger to whack you with.
I constantly read and educate myself about all things BDSM, kink and fetish, in part because it is required of me to do my job properly, but also because I simply take pleasure in doing so. I carefully researched and learned the various fetishes and forms of BDSM I offer (as well as more pragmatic things such as health and safety) before becoming a Professional Dominatrix – which allows me to give you the best and safest experience possible.
I firmly believe that a good BDSM technique is a skill not only essential to every Mistress, but also something that should be learnt in order to operate safely, with maximum effect, and for the most 'fun'. For professionals this also includes important aspects such understanding various psychological types of submissives (and modifying the approach towards each type accordingly), or creating narrative arcs.
As such I now offer both professional Mistress, private and couples and BDSM workshops (find more information about my workshops).
Now that you know my professional side, I invite you to find out more about me – the person.